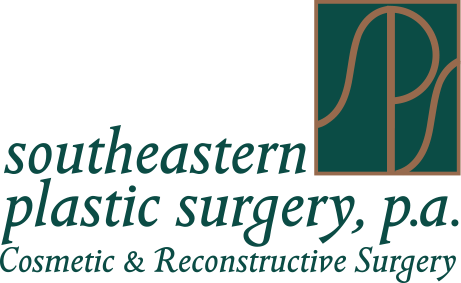 Southeastern Plastic Surgery, P.A.
2030 Fleischmann Road
Tallahassee, FL 32308
Phone: (850) 219-2000
Plastic Surgery Clinic Hours:
Monday thru Thursday: 8:30 a.m.–5 p.m.
Friday: 8 a.m.–1 p.m.
Medical Spa Hours:
Monday thru Friday: 9 a.m.–5 p.m.
Outpatient Surgery Center Hours:
Monday thru Thursday: 6:30 a.m.–5 p.m.
Phone Hours:
Monday thru Thursday: 8:30 a.m.–4:30 p.m.
Friday: 8:30 a.m.–12:30 p.m.
Abdominal Wall Surgery
Dr. Chris DeRosier, having both trained in Plastic and General Surgery, is an expert in complex abdominal wall reconstruction such as massive hernia repair, including those hernias that have recurred after other repairs. Dr. DeRosier and his reconstructive team in Tallahassee have developed extensive protocols to optimize outcomes for these complicated operations for patients from Destin, FL; Dothan, AL; Valdosta and Thomasville, GA; and surrounding areas.
These protocols involve careful pre-operative evaluation coordinated with the individual patient's managing physicians. The operation is carefully coordinated with the Anesthesia team using the latest technology in intraoperative monitoring. Dr. DeRosier uses the same surgical team for all of his major abdominal wall reconstructions as their familiarity with these cases is critical for their success.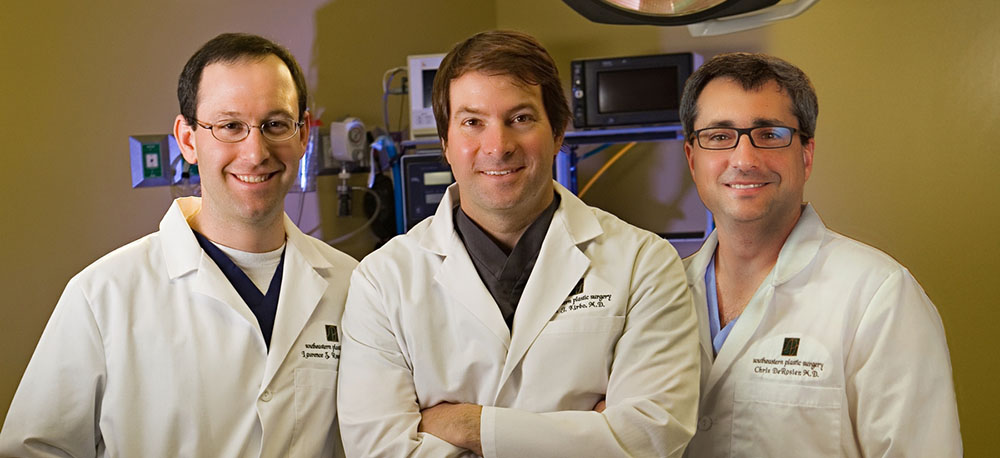 Meet Our Physicians
Our skilled physicans understand the profound difference even a small change on the outside can make on the inside. They are dedicated to providing high-quality care in a supportive, compassionate setting.
Some of the most serious repairs of the abdominal wall are called "complex abdominal wall reconstructions". They occur after surgeries by other physicians (such as general surgeons, trauma surgeons, gynecologists, and urologists) and can require complex transfer of tissue flaps from parts of the abdomen or lower extremity for the final definitive reconstruction.
The abdominal wall comprises the stomach muscles, fascia (tissue surrounding the muscle) and skin, and they serve to hold in the intestines, stomach, and liver. Hernias occur when the abdominal wall muscles no longer contain the intestines, stomach, and liver. This can occur due to a natural abdominal muscle weakness, such as in the groins and the umbilicus. Ventral hernias occur after a surgeon has made an incision into the abdomen, and the initial repair of the abdominal muscles and fascia have not remained intact. Reasons for the development of hernias after surgery include postoperative infections, large patient size and obesity, smoking, lifting too soon after repair, and wound healing issues.
There are many types of hernias, with Dr. DeRosier being an expert in ventral or incisional hernias. There are several other types of hernias, including inguinal and diaphragm hernias that are typically treated by general surgeons.
Testimonials
"Nothing but praise"
Thanks to Dr.DeRosier for the great abdominal wall reconstruction! This was a major surgery because, it had been half repaired in the past by a different Surgeon. Dr. Derosier explained the risks and even engaged the insurance in a small battle to get coverage. The entire staff at Southeastern Plastic Surgery, P.A. are the best! Nothing but praise 🙂
---
"He hung the moon…he gave me my life back"
"He hung the moon…he gave me my life back," is how Denise Laing describes her care and experience with Dr. Chris DeRosier, a board-certified plastic surgeon at Southeastern Plastic Surgery, P.A..
She adds that "he always made me feel like I was his only concern, whether we talked for 10 minutes or an hour. His bed side manner was phenomenal. It was like he was taking care of his sister or his wife."
Denise is no stranger to health care. She is a nurse practitioner and has spent many years caring for others. But her own need for medical attention started years ago when she was just 21 years old. She was diagnosed with Ewing's sarcoma, a primary bone cancer that impacts children and adolescents. While it is a rare bone cancer, it is a very serious cancer affecting only 1 percent of childhood cancers.
Denise was treated aggressively with chemo and radiation therapies, and she was fortunate to survive. She ended up losing her sixth rib and part of her seventh rib but still survived. Ten years ago, she began to have trouble with her left side particularly in the chest wall area. A CT scan showed a large mass. While the mass was not cancerous, there was lots of bone deterioration.
She had developed radiation necrosis that had resulted from her earlier radiotherapy in treatment of the Ewing's sarcoma. It was this complication that eventually led her to Dr. DeRosier.
"I learned the only way to fully eleviate the constant pain was to undergo a complex operation to rebuild the chest cavity," she said. Denise finally had hit the wall and decided she could no longer tolerate the pain. As a medical professional, she researched his background and credentials before going forward, she said. Confident in her research, she moved forward.
Her surgery required the expertise of several specialists including Dr. DeRosier and left her in the hospital for four weeks including five days in the ICU. She was out of work for many months but eventually she fully recovered.
Today, she reflects on Dr. DeRosier and others at Southeastern Plastic Surgery, P.A. and says "it is like I've known them all my life." I like that he doesn't sugar coat anything. She has referred several friends and co-workers to Southeastern Plastic Surgery, P.A. as a result of her outstanding care.
– Denise L.
Back to Top