Hair restoration techniques have evolved significantly since the days of "hair plugs," producing excellent, natural-looking results with meticulous grafting procedures. The 2 primary methods used to treat hair loss are called follicular unit extraction (FUE) and follicular unit transplantation (FUT). Even though they have some similarities, their differences are important to understand if you're considering hair restoration surgery.
In both procedures, a surgeon harvests follicles from the hair-bearing area of the scalp—typically the back of the head—and transplants them to the area of hair loss.
What Is FUE Hair Transplant?
The FUE technique is the most advanced hair transplantation procedure. It involves using a special device that extracts individual follicular units from the back of the head—an area of the scalp that's genetically resistant to hair loss. The semi-automated procedure reduces the time required for harvesting follicular units compared to manual retrieval.
The follicular units are then transplanted to the balding areas with precision, noting how the patient's hair grows naturally. This results in the best possible outcome without noticeable scarring.
What Is FUT Hair Transplant?
An FUT procedure (also known as micro-follicular hair transplantation) involves removing a strip of hair-bearing skin from the donor area of the scalp (again, typically the back of the head). This is why the FUT technique is usually called the "strip" method. Our technicians then place the strip under high-powered microscopes and divide it into grafts of follicular units comprised of 1 to 4 hairs. It involves up to 3,500 grafts, allowing more than 5,000 hairs to be transplanted per session.
After suturing the scalp, the follicular units are transplanted to the area of hair loss. Unlike the FUE technique, an FUT transplant results in a linear scar on the scalp.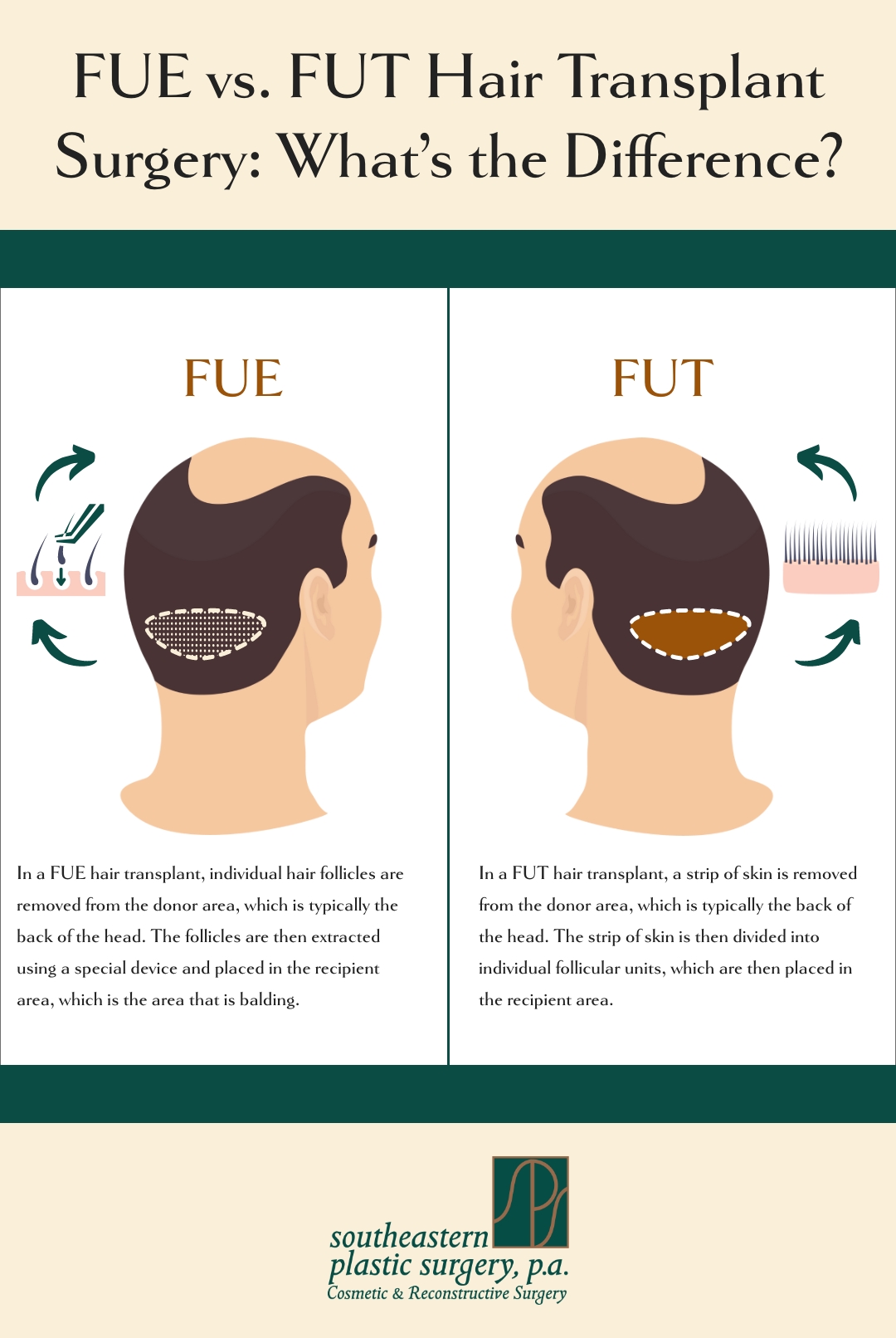 Our Hair Transplant Experts
Our board-certified plastic surgeons offer men and women the most advanced hair restoration treatment options, creating customized treatment plans after meeting with patients to assess their hair loss.
Our dedicated team of hair transplantation technicians is specially trained in all hair restoration procedures we offer at the practice. Under the supervision of our plastic surgeons, they perform hair transplant procedures in the comfort and safety of our medical office. You can see some of our patients' results in our photo gallery.
If you would like to learn more about your hair transplant options at our Tallahassee plastic surgery practice, please request a consultation or call (850) 219-2000 to schedule an appointment.