If you've been frustrated by hooded, droopy, or other eyelid concerns, you will be happy to know that a quick surgery can correct your condition. Eyelid surgery (blepharoplasty) is usually the best treatment for hooded eyelids, and it's often a good solution for other issues, including sagging eyelids and under-eye bags.
Why Choose Eyelid Surgery?
Your eyes are one of the first things people notice about you. When you are dissatisfied with the appearance of your eyes due to the sagging or puffy skin around them, it can impact your confidence. Hooded eyelids aren't just a cosmetic and self-esteem issue, though. Hooded lids can affect your vision, causing peripheral eyesight to suffer, especially in the upper and outer ranges. Eyelid surgery quickly improves these issues.
What Happens During the Surgery?
For drooping or hooded upper eyelids, the surgeon removes and tightens upper eyelid skin, improving your visual field and helping the eyes to look more rested and youthful. For under-eye bags, shadows, and other lower eyelid issues, your surgeon may shift or remove the fat beneath your eye and tighten or remove sagging skin. Upper or lower eyelid surgery usually takes just 1 to 2 hours, but the procedure may last longer when both upper and lower eyelids are involved. Patients often return to work about 7 to 10 days after surgery.
What Can Eyelid Surgery Do?
To help you learn more about what eyelid surgery can achieve, check out our infographic below.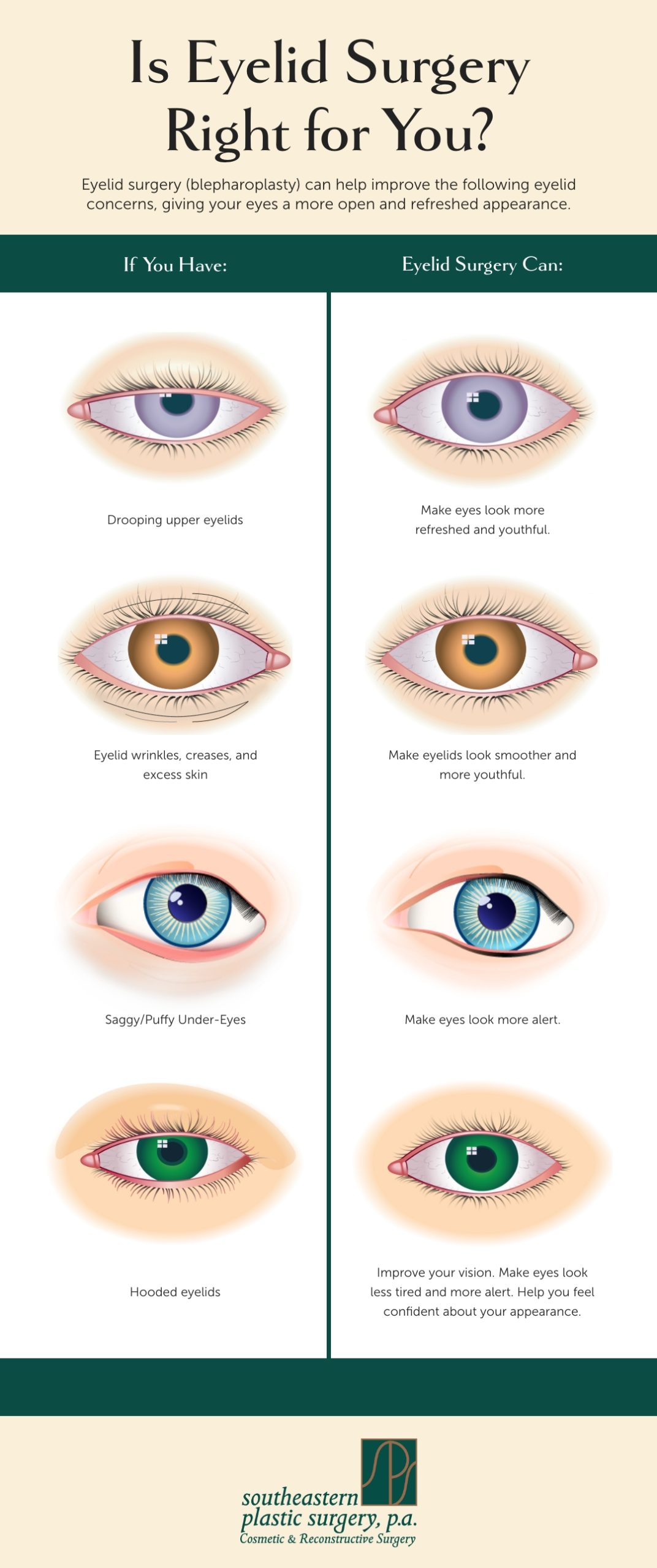 To learn more about how to achieve youthful-looking eyes with blepharoplasty, request a consultation or call us at (850) 219-2000 to schedule an appointment.