Are you looking to enhance your natural beauty and reveal a more youthful you? A chemical peel offers a nonsurgical solution to rejuvenate your skin and restore a radiant complexion, all with minimal downtime.
This blog post will discuss chemical peels and the range of skin conditions the treatment can address. Actual patient before and after photos below showcase the remarkable results some of our patients have achieved.
What Can a Chemical Peel Treat?
A chemical peel is a cosmetic procedure that involves the application of a chemical solution to the skin. The solution causes the top layers of the skin to peel away, revealing a fresh layer of skin with improved texture and appearance. The strength of the peel is customized to meet your skin's unique needs.
As you can see in the before and after photos below and in our photo gallery, chemical peels can address a variety of skin concerns, including wrinkles, fine lines, sun damage, texture problems, and pigmentation issues.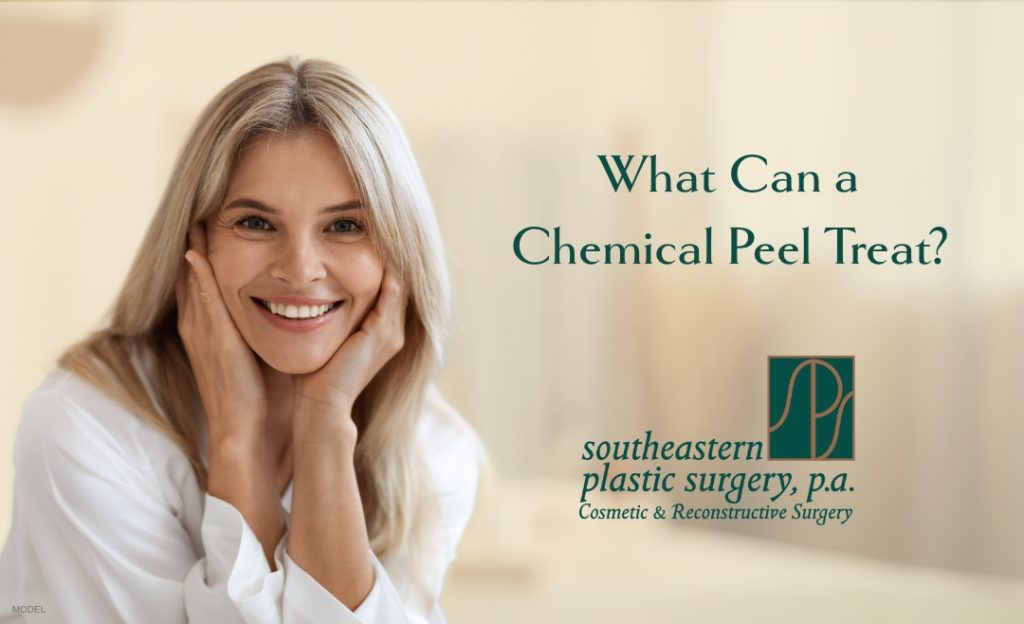 Wrinkles
Over time, the natural aging process, sun exposure, and lifestyle factors lead to the formation of wrinkles, which can make us look older than we feel. A chemical peel is an excellent wrinkle treatment, removing the damaged outer layers of skin, stimulating collagen production, and revealing the smoother, firmer skin beneath.
For deeper wrinkles, physician-performed chemical peels are often the solution, offering more rigorous treatment. They are often used to enhance the results of a facelift, as we discuss in our related blog post.
Fine Lines
If fine lines have become a concern for you, chemical peels can help by effectively minimizing their appearance.
By exfoliating the top layers of the skin and encouraging cellular turnover, chemical peels smooth out fine lines and give your skin a more youthful, refreshed look.
Sun Damage
Who doesn't enjoy days spent basking in the Florida sun? Unfortunately, all that sunshine can take its toll on our skin, causing discoloration, uneven tone, and texture problems.
Chemical peels are a powerful tool for addressing these concerns. By removing the damaged layers of skin, chemical peels can fade sunspots, reduce hyperpigmentation, and even out skin tone.
Texture Problems
Uneven skin texture, rough patches, and blemishes can make our skin appear dull and lackluster. A chemical peel restores a smooth, supple, and even appearance.
By promoting the growth of new skin cells, chemical peels effectively improve skin texture, minimizing the appearance of concerns such as acne scars and other imperfections.
Pigmentation Issues
Uneven pigmentation, such as melasma, age spots, and freckles, can be a source of frustration for many individuals. Chemical peels are popular hyperpigmentation treatments, effectively targeting these issues by removing the damaged skin cells and revealing the smooth, even complexion underneath.
How Much Downtime Is Needed After a Chemical Peel?
The recovery time after a chemical peel varies depending on the depth of the peel. Your provider can advise you of the expected downtime based on the peel type and your skin's characteristics.
Though the downtime may vary, it's temporary in any case. Most patients agree that the long-term benefits make a chemical peel worthwhile.
Request a Consultation
Take the first step toward achieving the skin you've always wanted. If you'd like to learn more about how a chemical peel can help you get your glow back, call our Tallahassee, FL, office today at (850) 219-2000 or request a consultation.